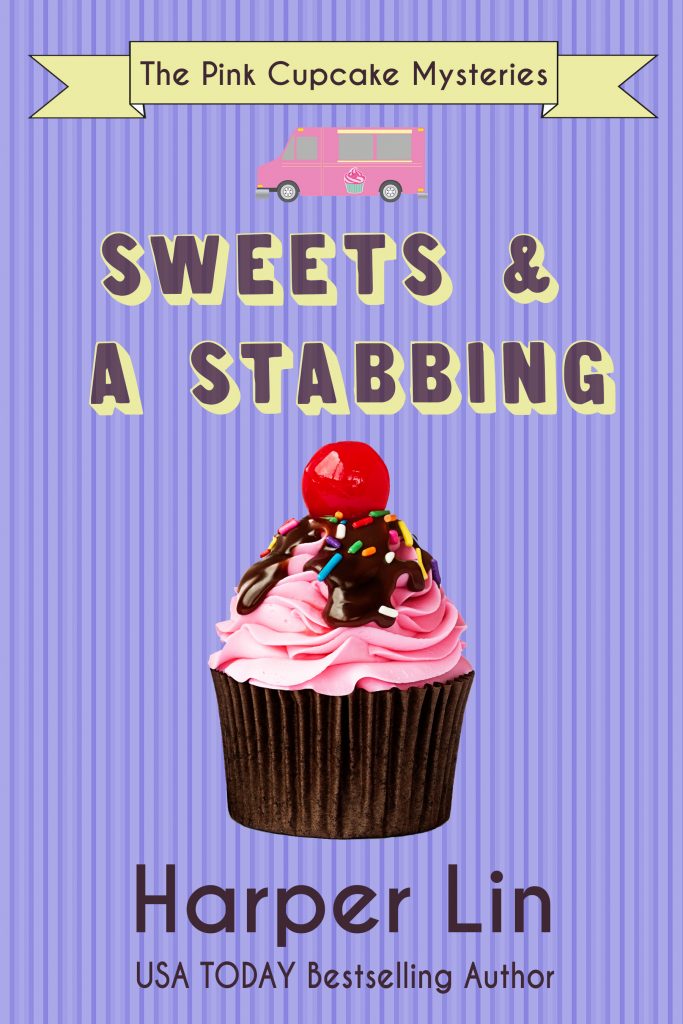 You might have heard about my new series already, The Pink Cupcake Mysteries, about a cupcake truck owner. The first book, Sweets and a Stabbing, is already out! The book includes 2 recipes that Amelia makes in the story.
Like many of you, I love cupcakes. I was at a wedding recently, and the gift for the guests were cupcakes. Unfortunately, I forgot to take mine home! I was a bit upset, but it was probably better for my waistline in the long run.
The protagonist of the story, Amelia Harley, has been a housewife for most of her adult life. After her husband leaves her for a younger woman (typical story!), she decides to pursue her dream of being a baker.
It's set in the fictional small town of Gary, Oregon. I've never been to Portland, but I would really like to. It seems like a fun, quirky city, and I heard their food truck scene is big. Portland's my inspiration for Gary, although Gary is still a small town, so locals are eager to spread gossip, making it a bit easier for Amelia to solve her cases.
I love feisty, independent women, and that's who I like to tell stories about. My advanced readers are already telling me that the character is really hitting home for them. Well, the first book is only the beginning! You can buy the book everywhere:
If you haven't grabbed the 4th book in the Cape Bay Cafe Mysteries, you won't be disappointed. Lattes, Ladyfingers, and Lies came out this summer, and it was a long-awaited book to the popular series. This is also a fun book, with plenty of great characters.
Living in a small beach town is a fantasy for me, as I'm sure it is for many of you too! If I ran a cafe, I'd want it to be like Fran's. Although The Greenstone's Brew Ha Ha is also amazing. And of course, there is Clémence's fancy family patisserie with their decadent French desserts—never mind, I can't choose!
Anyway, in this book, Fran is anticipating her trip to Italy with Matty… until a precious diamond ring is stolen from the town's jewelry store and an employee is murdered. Fran suspects the storeowner of insurance fraud, but what if she's wrong? Would her life be at stake again if she butts in on another police investigation? Find out in Book 4. It's available everywhere: